COMPANY NEWS
Sino Steel Visits Egyptian Embassy in China to Discuss Steel Trade Cooperation
Yeshuai Yu, the general manager of Shandong Sino Steel Co., Ltd., made an official visit to the Arab Republic of Egypt Embassy in China on March 31, 2017, at the invitation of Mamdouh Sallman, the Chief Commerce Executive of the Embassy. Yeshuai Yu had a friendly conversation with Mamdouh Salman and Mohamed Abdullah (third secretary of embassy), on the Egyptian steel market development prospects and the issues of strengthening cooperation with the Egyptian enterprises, etc..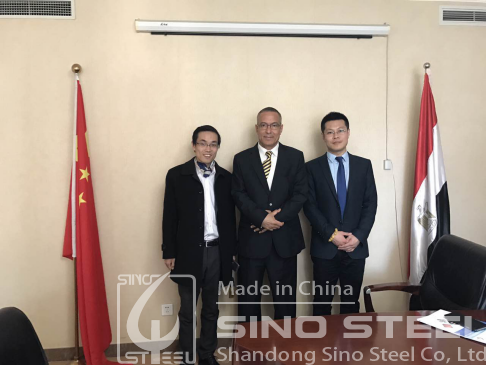 Yeshuai Yu introduced the company's general situation and the sales status in the African market, especially in North Africa. Embassy Mamdouh Sallman said that, Egypt attaches great importance to cooperation with China for a long time, especially in the economic and trade fields; Sino-Egyptian trade has been on the rise for many years. Now under the Belt and Road Initiative, the Egyptian embassy also hopes to provide more useful information and convenient conditions for Chinese enterprises to export to and invest in Egypt.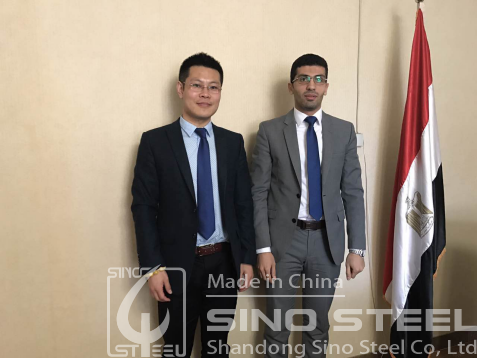 Embassy Mamdouh Sallman is also very concerned about any difficulties which the company encountered in the export process, and made overall constructive suggestions for the company to expand the Egyptian business. Yeshuai Yu expressed his deep gratitude for the views of Embassy Mamdouh Sallman and the important role played by the Egyptian Embassy in promoting Sino-Egyptian trade. He expects to take the opportunity of the Belt and Road Initiative to carry out more close cooperation with Egypt and other countries in Africa!
During the talks, the two sides also exchanged views on Egypt's important strategic position. Egypt, as one of the four ancient civilizations, located in the traffic hub of Asia, Europe and Africa, gets stable development with the EU trade relations in recent years, based on the traditional trade with African countries for a long time. Therefore, to a certain extent, Egypt can become a gateway to Africa and Europe for Sino Steel, and for it to expand the oversea market in Asia and Europe, and to promote Sino-Egyptian bilateral trade growth.  
Previous Page:Warmly Celebrate the First Meeting of ChengYang 6th Committee of CPPCC
Next Page:Anticipated outward bound indescribable unforgettable achievements .